Bloomberg's last major stab at a legacy – upzoning East Midtown – has been halted by a hostile city council and the hotel workers' union. Bloomberg says it may cost New York lots of tax dollars in the long run, and everybody else says "perhaps, but you're politically toxic, so please stop talking."
Personally, I don't care about the East Midtown plan, and think the cries of overcrowding are a bit overstated: We have a long way to go to hit the sorts of street crowds you see in Hong Kong or Shanghai. What I'm most concerned about is that it's all office and no residential. New York is not setting any records for tallest building in the world, but it is, interestingly enough, setting records for tallest all-office building in the world (with One World Trade Center's much-criticized spire beating out Taipei 101, making me wonder why there are even authorities whose job it is to decree this kind of silliness), and there are so many more all-office buildings planned:
The just-shelved East Midtown plan.
Half of the current Hudson Yards project.
The other half of the Hudson Yards project.
The World Trade Center.
Well, we certainly won't be lacking for faceless glass towers. The thing is, we've more or less been prompting a glut for office space for quite some time. You won't be seeing the sprawling campuses that Silicon Valley thrives on because the land is too expensive, but the sorts of tenants these massive projects are attracting are already housed in the city. The argument being given by proponents is that we need to be competitive with modern office space, but if a company can just pick up sticks and move to Hong Kong at the drop of a hat, what's to say they won't do so anyway? Time Warner is moving to build a sleek, modern tower in the Hudson Yards, vacating the Time Warner Center built back in the Medieval era of 2005.
One would think that the more pressing need isn't for more office space but for more living space. After all, we've been living under a housing crisis since World War II, and while there's been quite some development on those lines, they look suspiciously like the office mega-projects:
432 Park Ave.
107 and 215 57th St.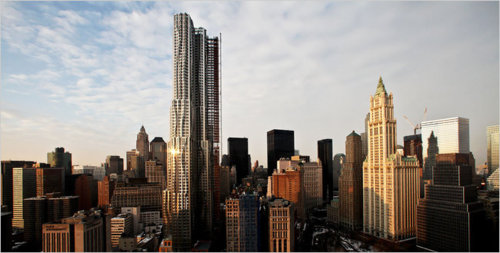 8 Spruce St.
Riverside South.
Luxury rentals, condominiums, Gold Coast abodes for the rich, trickle-down lotteries for the middle classes, nothing for the poor. I argued that the pendulum needs to swing the other way when it came to policies for the city, and that's why I'm not to terribly concerned about the halting of East Midtown. That's not to say that luxury apartments and office space have no place in this city. I love New York's skyline as much as anybody else, but what we need is a plan to ties the cash cows of these huge high-end developments with more than just vestigial transit development and housing subsidies for everybody else.
Benjamin Kabak of Second Ave Sagas argues that the plans to develop these projects shouldn't be so laden with complementary but separate plans for transit development, or rather that transit funding shouldn't be laden with zoning proposals such as this. I believe we need to grab hold of these proposals and force them to pay for things we actually need, until or unless our political leaders secure funding for them otherwise. We've had twelve years of more or less unfettered development, a real gift to real estate moguls around the world to build what they want in New York granted by Michael Bloomberg. Despite this, and despite the potential for increased tax revenue, our transit service hasn't seen much improvement, and our housing crisis actually got worse. The two tails of transit development we got – a 7 train extension to 10th Ave on the Far West Side and a Q train extension to 2nd Ave in the Upper East Side – simply aren't enough.
Developers won't do it themselves. We have to force them to.
There are wrong ways to do it, of course. China got a scathing report in the New York Times last week over the wholesale joblessness and suicides due to mass migration to New Towns amid their huge development boom. This report, however, should also be placed beside reports on the wholesale homelessness and the housing bubble in major cities like Shanghai. In short, it's a planning problem. Part of the problem is the same issue we had with our post-war housing projects: Separated from jobs, they are just ghettos. Part of the problem is a policy that's not too dissimilar to us now: They allowed the market to dictate development, and it exacerbated their crisis.
However, they're doing something about it, and where China is acting, America is stalling. Leader Xi Jinping has effectively been given the power by the party congress to change economic policy as he sees fit. I'm still waiting for our new New Deal – remember how much Works Progress Administration housing we have in this city, after all – and am watching as some say that our own Democratic party elite are currently about to suffer from a populist revolt - in the form of Elizabeth Warren threatening Hillary Clinton's bid for the Presidency – because they are unwilling to make such bold steps. Indeed, party faithful Christine Quinn was upset by populist Bill de Blasio in New York and party faithful John Connolly was trounced by populist Martin Walsh in Boston. Hopefully this represents a sea change, because it's painful to wait it out otherwise.
We don't have to do it exactly like China – part of their successes are due to cheap labor and relatively laissez-faire development standards – but their ability to act decisively is something we haven't seen in our country in a long time, and in the end, they have a high-speed rail network that extends across the country while we do not and twelve new subways lines in Shanghai in twenty years where we couldn't even build one quarter of a line in New York in thirty.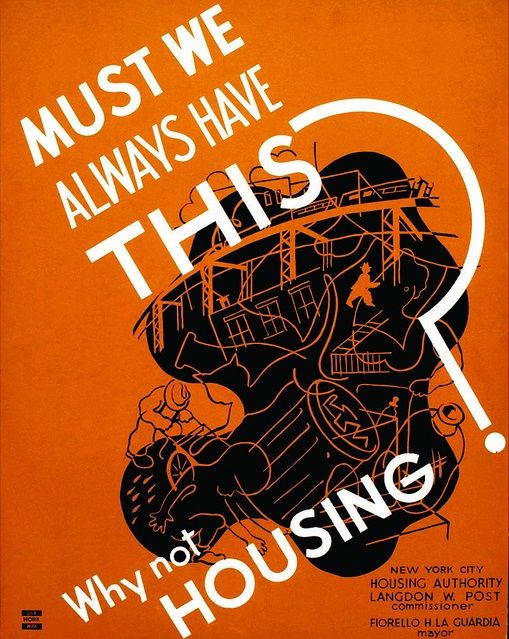 WPA, NYCHA and La Guardia during the NYC heyday